Ascension Island (7.95°S, 14.37°W) is a dependency of St. Helena which lies some 800 miles to the southeast (location map). It is as remote as St. Helena, being almost exactly in the middle of the South Atlantic, but is a smaller island (98 sq. km [34 sq. mi.]; topographic map).
Ascension is volcanic in origin, but has superb white sand beaches (the sand is shell and coral sand). It is a rugged, dry, barren, and inhospitable island. Most of the surface of Ascension is covered by basalt lava flows and cinder cones (geology of Ascension).
History
[See also the potted history from Packer's Ascension Island Handbook.]
Ascension was first discovered in 1501 by Juan da Nova Castella, but the discovery apparently went unrecorded, and the island was re-discovered on Ascension Day 1503 by Alfonso d'Albuquerque. Subsequently Ascension was little visited; it was too dry and barren to be of any use to the East Indies fleets. Ascension became strategically significant with the exile of Napoleon to St. Helena; the British were concerned that it could be used in any attempt to rescue Napoleon. Thus a small British naval garrison was established on the island in October 1815. By Napoleon's death in 1821 Ascension had become a victualling station and sanitarium for ships engaged in suppression of the slave trade from the West African coast. In 1823 the garrison was taken over by the Royal Marines and the island remained a naval possession (HMS Ascension, "a Sloop of War of the smaller class") until 1922 when Ascension became a dependency of St. Helena.
In 1942 US Army Engineers built the airfield, but after W.W.II the island reverted back to the sole use of Cable and Wireless. In 1957 the US presence was re-established on Ascension with the extension of the Eastern Test Range followed by the construction of a NASA tracking station in 1965/6 (since closed down). In 1966 the BBC constructed a short wave relay station to serve South America and Africa.
Ascension came to brief international notice during the Falklands war when it served as a staging post for the British forces en route to and from the Falklands.
Present Day Ascension
Ascension has a population of about 1,250 (mostly Saints) and is a communications centre (BBC and Cable and Wireless) in addition to the RAF and USAF presence. A resident Administrator nominally governs Ascension, although in reality the island is run (and operating costs paid for) by its users.
Ascension has an airstrip although there are no commercial flights to Ascension; RAF flights from Brize Norton to the Falklands stop at Ascension, and USAF flights from Patrick AFB (Florida) serve the US Base on the island. Ascension used to be a "closed" island but tourist access has recently become available, although there are relatively few facilities for tourists or casual visitors. Ascension can be briefly visited as a passenger on the Royal Mail Ship (RMS) St. Helena when it calls at the island.
The Islander weekly newspaper is available online.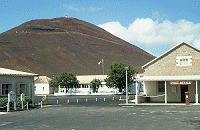 Take a photo tour of Ascension.
---
Sign the Guestbook

View the Guestbook
---

Ascension Bibliography (arranged by year of publication)
Some titles are available in the St. Helena Virtual Library.
To obtain in- and out-of-print books inquire at Miles Apart.
Additional literature sources are in Day's exhaustive bibliography.
Allen, W. Picturesque Views in the Island of Ascension. London. 1835.

Gill, I. Six Months in Ascension. Murray, London. 1878.

Stonehouse, B. Wideawake Island. Hutchison, London. 1960.

Hart-Davis, D. Ascension: The Story of a South Atlantic Island. Constable, London. 1972. ISBN: 0094582300; Doubleday, New York. 1973.

Cross, A. St. Helena. David &amp Charles, Newton Abbott. 1980. ISBN: 0715380753
Has a chapter about Ascension.

Packer, J.E. The Ascension Handbook. 1983.

Winchester, S. Outposts. Hodder &amp Stoughton, London. 1985. ISBN: 0340337729
(Published in the US as The Sun Never Sets, Prentice Hall, New York. ISBN: 0138758816)
Has a chapter about Ascension.

Ritchie, H. The Last Pink Bits. Hodder and Stoughton, London. 1997. ISBN: 034066682X
Has a chapter describing a fleeting stop-over on Ascension.

Day, A.E. St. Helena, Ascension and Tristan da Cunha. Clio Press, Oxford. 1997. ISBN: 1851092722
World Bibliographical Series, volume 107.
Available as an eBook at netLibrary, but requires payment of an annual fee to view the eBook.

Ashmole, P. and Ashmole, M. St. Helena and Ascension Island: A Natural History. Anthony Nelson, Oswestry. 2000. ISBN: 0904614611
Excellent and comprehensive description of the natural history of the two islands.


National Geographic Articles
Clarke, F.J. Ascension Island, an Engineering Victory. National Geographic, vol. 85, p. 623-640. 1944.

Moore, W.R. Green Grows for GI's on Soilless Ascension. National Geographic, vol. 88, p. 219-230. 1945.


Visit Saint Helena

Visit Tristan da Cunha
---
Except where otherwise noted, photographic images and text on this and related pages are copyright of Barry Weaver. You are welcome to download images and text, but if you use them or pass them on please acknowledge the source.
---
Comments? Corrections? More information? Contact:
Barry Weaver, Geology and Geophysics, University of Oklahoma - bweaver@ou.edu
---
Page maintained by Barry Weaver
Last updated: 19 December, 2011