The RMS St. Helena
---
The old and the new - the present ("new") RMS St. Helena (left) and the first ("old") RMS St. Helena (right) docked stern-to-stern.
Original photograph by Rodney Young.
---
St. Helena is sufficiently rugged that an airstrip has never been built (and it is perhaps doubtful that one ever will be built). Consequently, the only access to the island is by sea. Until the 1970s St. Helena was a regular port of call for the ships of the Union Castle Line on their UK-South Africa route. With the rapid contraction and almost total disappearance of passenger shipping lines, including Union Castle, St. Helena was faced with the prospect of isolation. In response, the British Government purchased a ship specifically to serve St. Helena. Refitted and renamed, the part cargo, part passenger Royal Mail Ship (RMS) St. Helena came into service in 1978. The RMS was requisitioned during the Falklands war and served as a minesweeper support ship.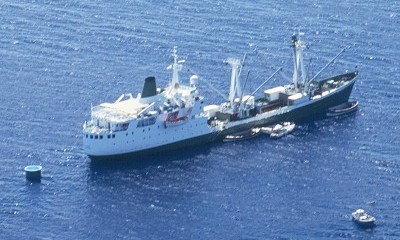 ---
The "old" RMS St. Helena anchored in James Bay, St. Helena.
Originally built in 1963, the 3,150 ton RMS had cabin space for 76 passengers.

---
The RMS had inadequate passenger and cargo space and was nearing the end of her operational life. In 1986 the British Government announced plans to construct a new ship for St. Helena. After a number of fiascoes including bankruptcy of the builders and spiralling costs, the new ship was launched in 1989 and the "new" RMS St. Helena made her maiden voyage in late 1990.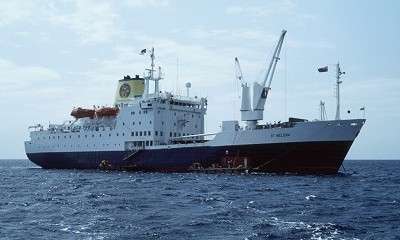 ---
The "new" RMS St. Helena anchored off Ascension Island.
The 6,000 ton ship has cabin space for 128 passengers.

---
The RMS is owned by St. Helena Shipping Lines and the contract for operating the ship is currently held by Andrew Weir Shipping. The Officers and crew are predominantly St. Helenian.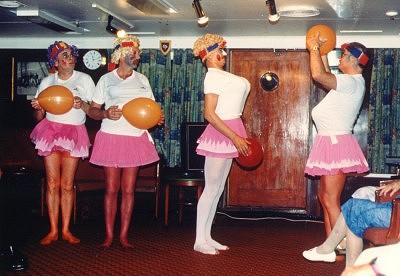 ---
The officers on the RMS have been known to go to extravagant ends to entertain the passengers and they cater for all tastes (particularly their own!).
---


Sail to Saint Helena Ascension Tristan da Cunha
Page maintained by Barry Weaver